FOCUS
WHY EILEEN GU WAS THE REAL WINNER OF BEIJING 2022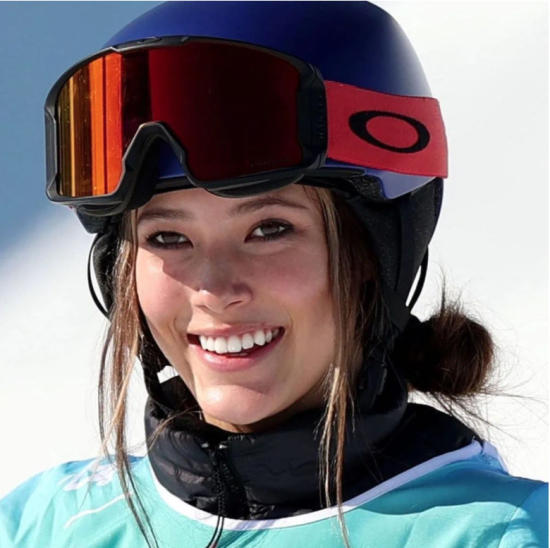 AS THE BEIJING 2022 WINTER OLYMPICS HAS COME TO AN END, ONE NAME HAS ATTRACTED THE MOST ATTENTION BOTH ON AND OFF THE SLOPES: EILEEN GU. WITH SO MUCH ATTENTION ON THE YOUNG FREESTYLE SKIER, NIK ALDERSON ASKS, WHO IS EILEEN GU AND WHY DOES IT MATTER?

With so many questions and potential controversies swirling around the Beijing 2022 Winter Olympics — from geopolitical tensions to whether China could maintain its 'dynamic zero' Covid-19 policy with so many athletes coming in from abroad — it was hard to predict beforehand which stories would capture headlines.
Looking back over the biggest stories now that the Games are over, beyond some incredible feats of sporting prowess, a number of personal and cultural stories also grabbed the world's attention. People went crazy for Olympic mascot Bing Dwen Dwen, a giant panda wearing a suit of ice, causing two to three-hour-long queues to form outside stores selling Olympic merchandise in central Beijing – surprising given that it attracted little fanfare when it initially launched in 2018. Team GB became the unlikely stars of the opening ceremony when Weibo and WeChat users responded positively to their Ben Sherman-designed outfits.
However, one name has stood out above all others: Eileen Gu.
The 18-year-old is the success story of China's "naturalisation project." A pet project of President Xi Jinping, the plan to recruit foreign athletes of Chinese heritage to represent the country in certain events was launched after Beijing won its bid to host the winter games to address the fact that it had only won a small number of medals at previous Winter Olympics — 13 as of 2018, to be exact.
Gu is one such athlete, and she has more than met China's expectations, winning two gold medals in the freestyle skiing big air and halfpipe events, and a silver for slopestyle. This not only makes her the youngest ever freestyle skiing Olympic gold medalist, but also the first freestyle skier to win three medals at the same event. Clearly, she is a force to be reckoned with, and both commercial brands and other organisations are taking note.
In 2019, Eileen announced on social media that she had made the choice to represent China in the 2022 Winter Olympics. With this decision came a stream of nationalistic praise from Chinese citizens and sponsorships from state-owned firms including Bank of China and China Mobile. As Ricardo Fort, who managed Olympic sponsorships for Coca-Cola and Visa during past Games has said, "If I had to choose between Chinese sponsors and American sponsors, the pool of money for endorsements in China is more interesting for any athlete."

Gu's decision to compete for China was met with less enthusiasm in the West. Many Americans criticised the young athlete for choosing to represent a nation with an increasingly hardline government, especially since she had been trained and raised in the US. Eileen's silence on many topics concerning China also came as a surprise to her fans in the US, who know her as an outspoken advocate for human rights. At the age of 12, Gu gave a speech to her all-girls school about female empowerment and spoke about the difficulties she faced competing in a male-dominated sport. Yet when asked about whether she shared the concerns of the international sporting community regarding the well being of Peng Shuai, a Chinese tennis player who accused a former Chinese official of sexual harassment in November 2021, Gu simply said she was "really happy" that Peng had been at the Olympic freestyle big air event to watch her win her gold, and honoured that a star from a major sport like tennis had come to see "niche sports like freeskiing." 
China's recruitment of Eileen Gu also has political implications. As Martin Wiesiolek, a cross-country skiing coach, wrote online rather bluntly in 2019, "[Eileen Gu] will end up serving as a political tool…" While such a statement may be perceived as dramatic, it certainly carries an element of truth. Choosing a mixed-heritage athlete to be the face of the sport in a country with a strong culture of conservative nationalism does seem deliberate on Beijing's part. After all, Gu's decision to choose her Chinese heritage over her American upbringing is a grand demonstration of China's soft power.

Gu has become a token of China's growing strength. Her decision to represent the country of her mother's birth will certainly have huge financial implications for her personally; she is reported to have made RMB 200 million (£23 million) in endorsement deals in China in 2021, even before her successful Winter Olympics run. It will also have an impact on the geopolitical tensions that are increasing between China and the US — especially now that Beijing can boast that a prominent US national has elected to come in from the cold. In China, Gu's decision and medal-winning success at the Games helps Beijing foster an image of a US in decline. But despite all of this, Gu claims to be disinterested with the political implications her dichotomous identity carries, telling a recent press conference "I'm not trying to make anyone happy".