History of the China-Britain Business Council
The organisation's history dates back to the early 1950s when British companies were among the first to trade with Communist China. That was the 48 Group of Companies (established in April 1954). At the same time, the British government had a semi-official trade body known as the Sino-British Trade Council which promoted British participation in trade fairs and exhibitions in China. Although the UK was the first Western country to recognize the People's Republic of China, the PRC did not fully recognize the UK until 1972.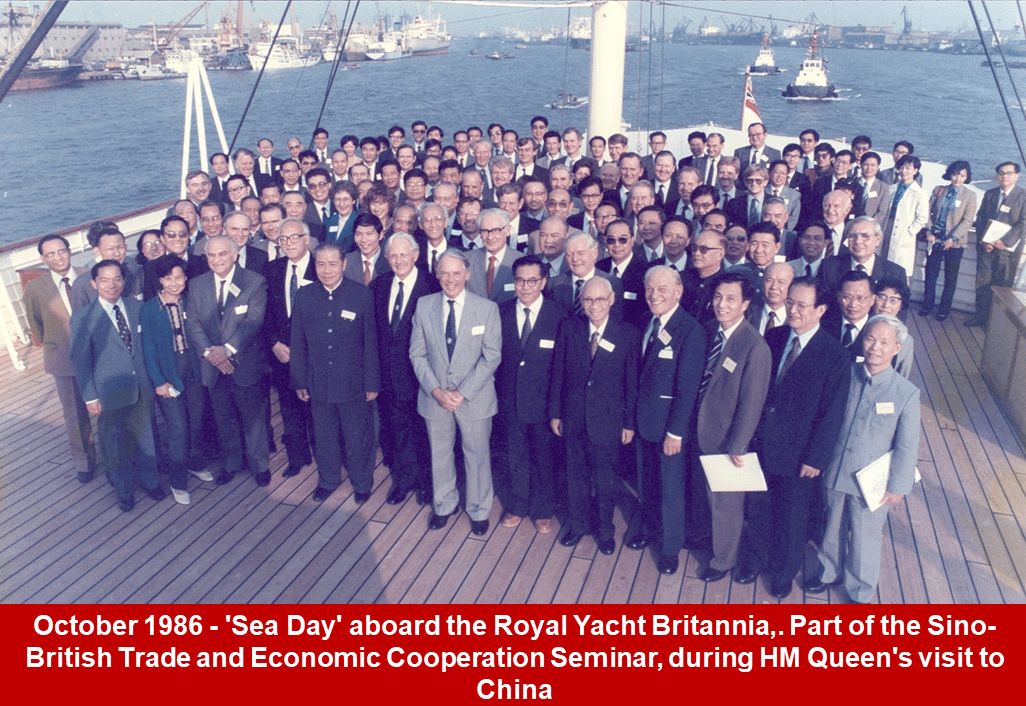 China-Britain Trade Group 
The China–Britain Trade Group was established in 1991 when the 48 Group merged with Sino-British Trade Council, at the instigation of the (then) UK Department of Trade and Industry.

After the first six months, CBTG had a Membership of 100 British companies, large and small, paying an annual subscription. Members were able to attend exclusive meetings with Chinese visitors, attend specialist workshops, and had priority access to special events.

A big incentive of Membership for many was the provision of services by the CBTG's two China offices. As the number of offices grew, CBTG continued to offer this service to Members, and it is still a benefit of Membership today.

The early 1990s saw a renewal of high-level visits from China to the UK In November 1992 Vice-Premier Zhu Rongji was the first Chinese leader to take part in a seminar with British business in the UK, when the Stock Exchange was the venue for presentations from privatised industries, organised by CBTG and the Stock Exchange.

The biggest events of the mid-1990s were the huge business groups taken to China by Michael Heseltine, as Trade Minister in 1995, then as Deputy Prime Minister in 1996. CBTG was involved in putting together the business groups which accompanied the Deputy Prime Minister. In 1996 a decision was made to allow Member companies to to commission full time staff based in CBTG China offices to provide dedicated services to them. Visiting CBTG Beijing that year, Michael Heseltine coined a name for this service: the China Launchpad. This has since become a popular service which the China–Britain Business Council still offer UK companies.

The return of Hong Kong to Chinese sovereignty in 1997 led to warmer relations with the UK. Less than a month after his appointment as Premier in 1998, Zhu Rongji was back in the UK, where a CBTG dinner in London's Guildhall attracted 900 guests.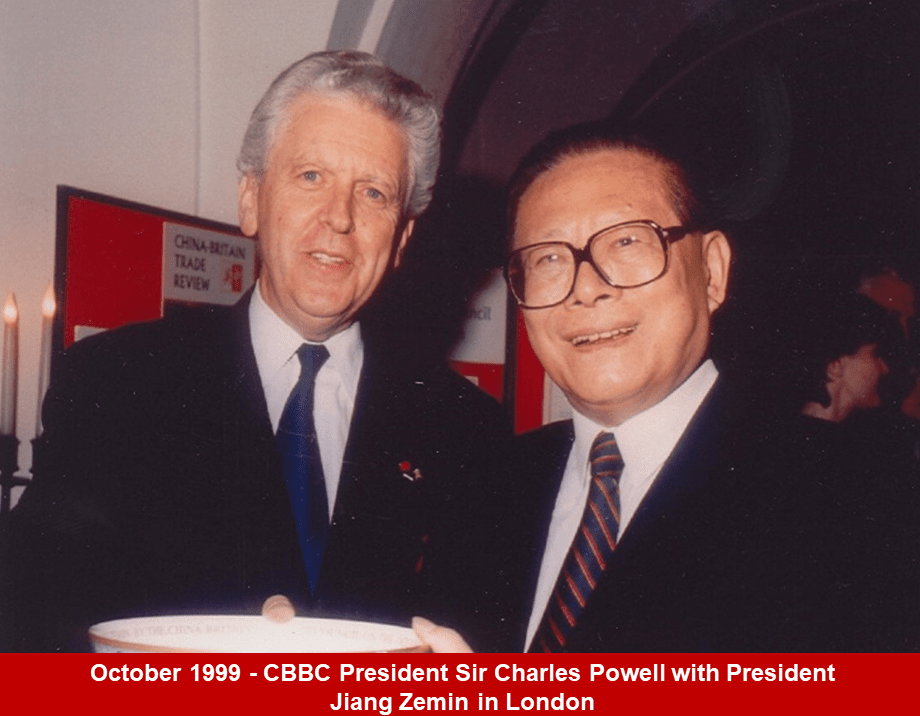 China-Britain Business Council as it is today 
In 1998 the organisation changed its name to the China–Britain Business Council (CBBC), to reflect the growth of all round business between the UK and China encompassing investment, trade, licensing and other forms of business activity.

In November 1999, the UK received the first head of state from the People's Republic of China, Jiang Zemin, who was greeted by a CBBC organised business lunch at the Banqueting House.

In the UK, CBBC's promotion of opportunities in China has never stopped. In its first year, there began a long tradition of organising a nationwide programme of seminars and conferences. Since then there has been a continuous programme of conferences and seminars with VIP speakers, briefings around the country for groups of exporters, and meetings with Chinese industrial and provincial leaders.

Lord Powell, a former foreign affairs adviser to Prime Minister Margaret Thatcher, took over the presidency of CBBC in 1998. His first task was to accompany Prime Minister Tony Blair to China with a business delegation. The following year saw visits to the UK by then Vice-Premier Wen Jiabao, and President Jiang Zemin. CCPIT Chairman Wan Jifei followed in 2001, and in October that year, the then Vice-President Hu Jintao also came to the UK.

Sir David Brewer, Former Lord Mayor of the City or London, became CBBC Chairman in 2007, and continued to push forward CBBC's contribution to UK-China trade and business exchange, and he has now, through his career, made well over 100 trips to China.

In the new millennium, China's economic strength has grown exponentially, intensified by WTO accession in 2001. As China opens its door wider to foreign participation, new trade promotion sectors have emerged including education, leisure, branding and communications technologies, and CBBCs regular trade missions in numerous sectors reflect this. Outsourcing has become a major field of operations as most companies looking to outsource production will consider China. Simultaneously, as the world's fastest growing market, most exporters will look at the Chinese market.

Though the pioneering feel of the early years may have gone, and China has changed beyond all recognition since that time, CBBC is still filling a vital role of informing, advising, and organising services for British business in China.
In 2013, Lord Sassoon became CBBC's Chairman 
This was also the year that CBBC celebrated the 60th anniversary of its founding. China-Britain business relations have become strong in recent years with the support of CBBC. In 2014, Chinese Premier Li Keqiang visited the UK with Lord Sassoon jointly hosting a state dinner in honour of Mr Li, attended by 650 British and Chinese political and business dignitaries. In 2015, Lord Sassoon as Chairman of CBBC hosted the UK-China Business Summit during President Xi Jinping's visit to the UK.

Lord Sassoon accompanied The Chancellor to China in December 2017 and was a part of the Prime Minister's delegation to China at the end of January 2018.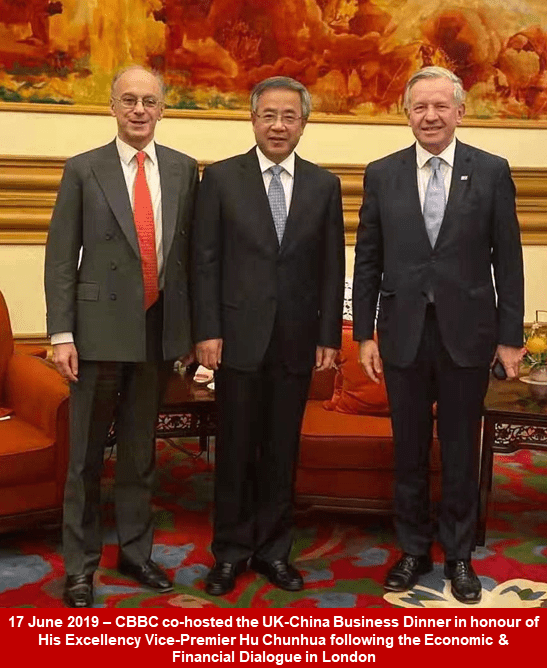 Sir Sherard Cowper-Coles was announced CBBC's new Chair in 2019
September 2019 AGM held a particular significance as it marked CBBC's 65th anniversary, and welcomed Sir Sherard Cowper-Coles as CBBC's new Chair, and in addition Lord Sassoon was nominated to become CBBC's first President.